Bobbie Jo Rosenthal

Agent

in Wisconsin Rapids, WI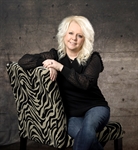 Expertise Types
Relocation, Residential, Residential Investment, Single Family Homes
Bobbie Jo Rosenthal epitomizes creativity, energy, hard work and partnership with every individual she encounters. Bobbie grew up in the Saratoga area and started her selling habit at the age of eight, selling Girl Scout cookies to her neighborhood. Since she has worked in many aspects of industry from young on: Fine dining, Graphic Design, Property Management and Real Estate.
Bobbie graduated from Nekoosa High School and made her way to La Crosse, where she graduated from W.W.T.C. for Printing, Publishing & Graphic Design. She worked for La Crosse Sign Company as a Graphic Designer for: billboards, monument signs and fleet graphics. Her creativity did not stop there, she then was recruited by another design company, Clearview Sign & Graphics where she was the lead Graphic Designer creatively outputting Semi, boat and vehicle wraps for mobile marketing. She had the honor of seeing her work daily on her commute home. Bobbie was a La Crosse resident for 13 years and moved back to her hometown of Wisconsin Rapids, in 2013 where she knows all the neighborhoods inside-out, and can help you select the best one for your family's needs.
Bobbie's family is her pride and joy. Her son, Parker is active in Baseball and Football, you will see Bobbie on the sidelines, cheering him on rain or shine. Bobbie and her son also have a love for animals including their Teddybear puppy, Rueben.
In her free time Bobbie likes to brew her own wine, repurpose antique furniture, interior decorating, cooking meals with more ingredients then the grocery store, going fishing, camping and relaxing on the pontoon with her family.
With her design experience and ability to see past the "Not so pretty" she will not lead you astray. Bobbies organization skills, planning experience, and witty sense of humor will make purchasing a new home, an enjoyable experience.
This is a quote she read in a book many years ago and Bobbie believes it holds true in so many of life's situations.
"Those that are willing to decide on the prize and then make the sacrifice will do well. Those that can only think about the prize but shy away from the work are destined to forever miss out on the dreams that could truly fulfill their lives."